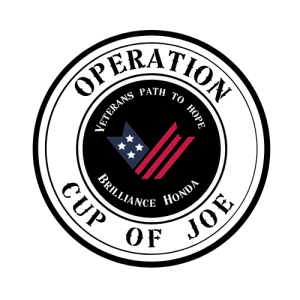 We have created Operation Cup of Joe to deepen a long-standing partnership with Brilliance Honda.
We are so excited to partner with Brilliance Honda for Operation Cup of Joe! We are starting off with collecting canned food and coffee supplies to make sure there is always coffee for veterans when they walk into our office.
Come on into Brilliance Honda (680 W. Terra Cotta, Crystal Lake, IL 60014) to donate today, the bin is in the showroom!
If you cannot come in to donate, do not fret. Here is a link that you can directly donate to Veterans Path to Hope! Let's make everyone's holiday a little bit brighter this year.